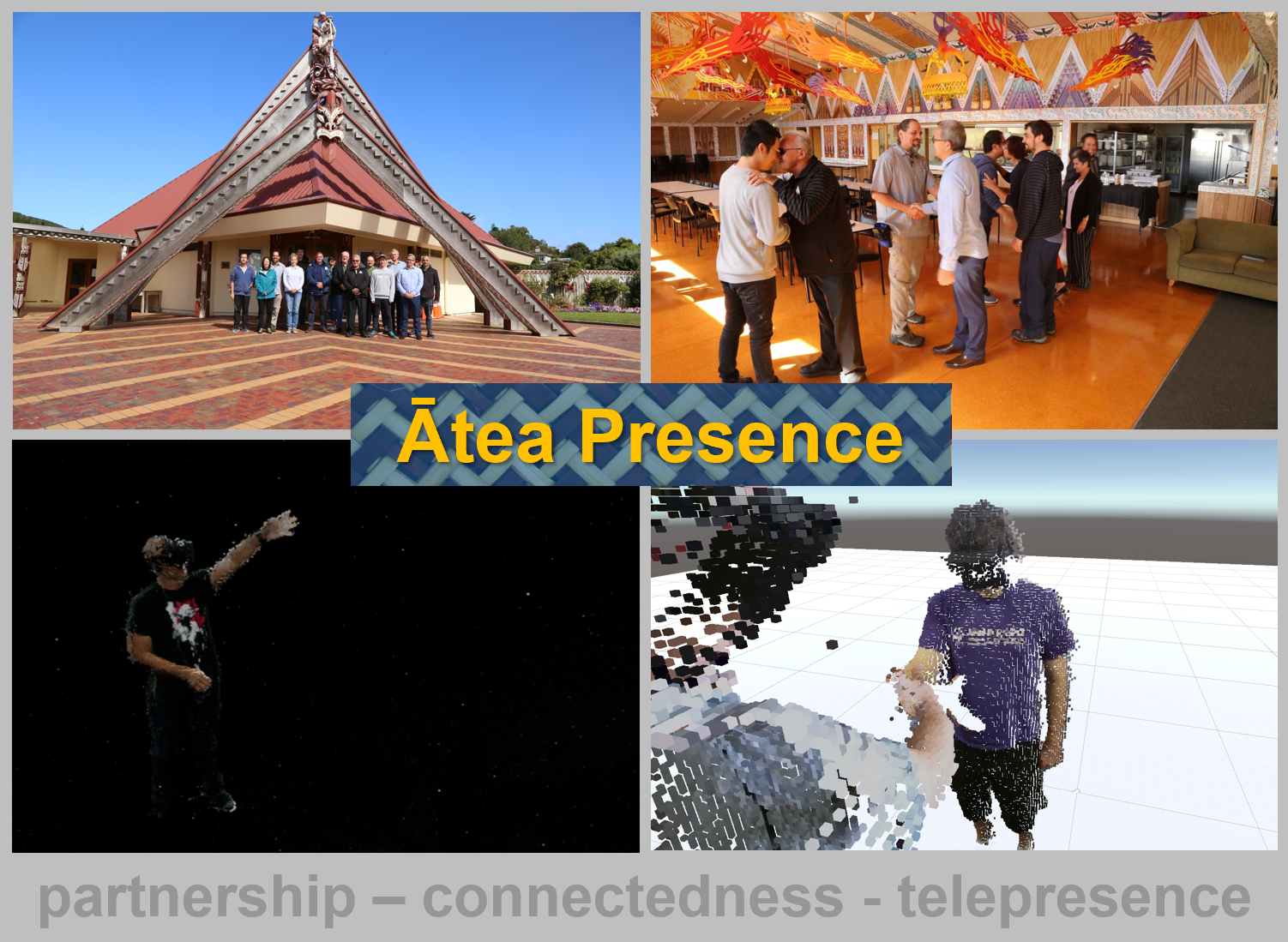 Ātea is a spearhead project funded by the Science for Technological Innovation National Science Challenge (SfTI) Aotearoa/New Zealand (2018 - 2022). SfTI researchers are designing and building Ātea, an immersive experience that will draw on Māori protocol and world views as well as new technologies to preserve and share knowledge, language and culture in the digital realm.
Ātea incorporates augmented, virtual and mixed realities to share history, knowledge and stories, with a customised content management system to connect dispersed communities. This Spearhead project is engaging widely with the research sector, industry and iwi and taps into the growing Māori digital economy.
The spearhead project is lead by Assoc/Prof. Hēmi Whaanga (University of Waikato) and comprises three main work packages (WP):
WP Ātea Core System- a stacked and layered repository management system encapsulating all content (static and dynamic) and providing internal and external interfaces to propagate content through a non-consumptive model of access, authentication and security. Ensures safety, security, and privacy, and provides the backbone infrastructure for the Ātea programme. Leader: Prof D. Bainbridge (Uni Waikato)
WP Reo - fundamental Māori engagement with technology should occur through Māori's fundamental language - te reo Māori. The Ātea project seeks to be able to receive both spoken and written Māori, process and model this input, and then respond in te reo Māori in a manner that is both grammatically and culturally correct. Effectively creating a reo Māori AI presence. This WP is expected to be applied to all areas of Ātea that have human-computer interaction. Leader: Assoc./Prof. Te Taka Keegan (Uni Waikato)
WP Ātea Presence - Virtual/Mixed Reality environment using culturally appropriate avatars (representations of humans) to provide a meeting place and space to communicate, collaborate, share, create and develop and to provide a meaningful tele- and co-presence interface to connect local and dispersed people. Leader: Prof. H. Regenbrecht (Uni Otago)
Ātea Presence:
Our work package Ātea Presence centres around three main themes of technological development: (1) the creation of a "digital twin" of the wharenui (meeting house), (2) 3D storytelling recording and experience and (3) the experience of telepresence and the feeling of being together with other remote people at the marae (tele-co-presence). Our team is developing, testing and evaluating, and implementing in the field all three themes. Our main collaboration partners are the community of and around the Te Rau Aroha marae in Bluff/Motupōhue, the University of Waikato, and the University of Canterbury's Human Interface Technology Lab.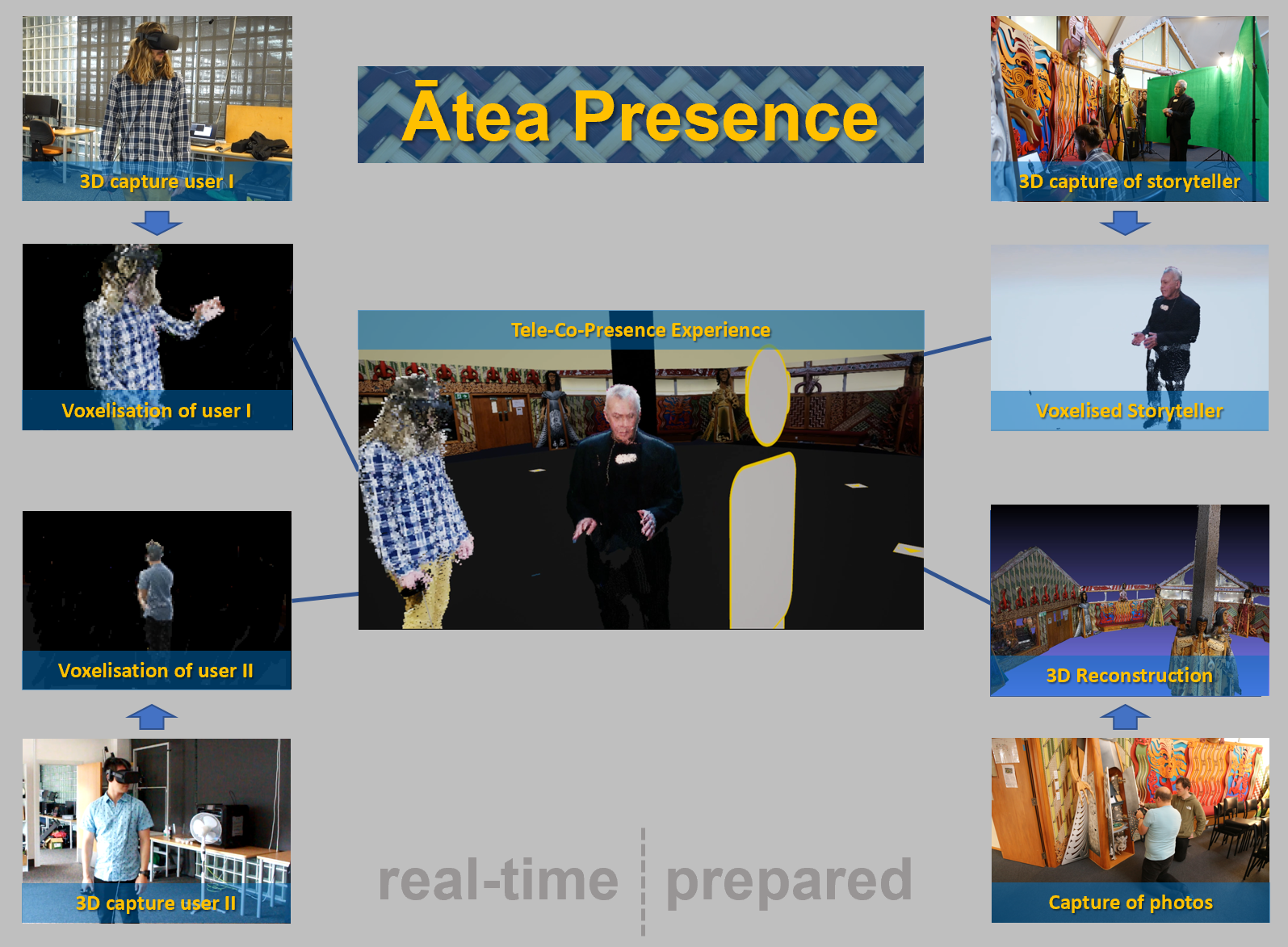 Tāngata:
Otago: Holger Regenbrecht (work package contact), Noel Park Steve Mills, Stu Duncan, Rosa Lutz, Laurie Lloyd-Jones
Bluff: Bubba and Gail Thompson, Dean Whaanga
Canterbury: Rob Lindeman, Kris Tong, Rory Clifford
Waikato: Hēmi Whaanga, Paora Mato, Nadia Jones